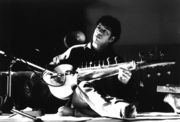 Amaan Ali Bangash
Photo : Bettina Jacot-Descombes, MAH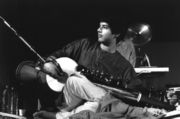 Ayaan Ali Bangash
Photo : Bettina Jacot-Descombes, MAH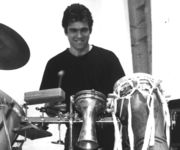 Jean-Bruno Meier
Musical Dialogue «Orient-Occident» II
sarod - tabla - piano - percussion

Concert in Musée d'Art et d'Histoire. Geneva, Switzerland,
October 1997 for the 50th anniversary of India's Independence

The originality of this Musical dialogue (in two parts and two different acoustic climates) lies in an acoustic spacialisation of an instrumental dialogue organised as an improvised joust.
The first part inspired by the oriental mode, develops through short motifs, an improvised dialogue in the reminiscences theme. The second part, in four sequences, of Indian-Afghan inspiration, alternates Oriental and Occidental climates as question and answer.
The meeting of these two musical cultures open up us to new listening experiences.
The sarod gives an emotional register quite near to the piano.
Tabla is the soul of the rhythm.
Percussion is the rhythmic link which facilitates the musical fusion.

Dominique Barthassat
Photo : Bettina Jacot-Descombes, MAH

Ustad Shafaat Ahmed Kahn
Photo : Bettina Jacot-Descombes, MAH