Bodily experience of rythm >
musical sport

Dynamic approach of piano theory

Construction of an imaginary
world of music >
development of improvisation and composition


Computer assisted composition >
learning to make programs
as well as the logistics of composition


Sound architecture in space >
design of sounds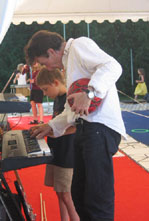 CEM-Centre d'Exploration Musicale
Dominique Barthassat founded the CEM - Centre d'Exploration Musicale in 1987 (Geneva) where he teaches the technique he has been developping since 1984.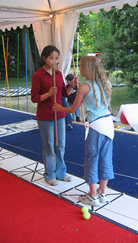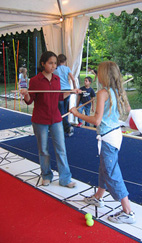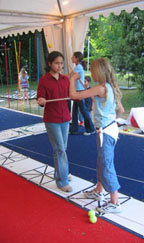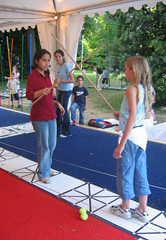 Scenic, musical and sound game at the The Night of Science 2004 , Geneva, July 2004



MUSICAL EXPLORATION,
multidimensional educational method for music
created by Dominique Barthassat

The multidimensional approach to music combines the dimensions of body, eye and instrument, integrating new technologies of sound. Thus a dynamic environment is created for musical apprenticeship (piano –music created by computer) by developing the faculties of improvisation and composition.

The creation of a pilot space in Geneva, the Centre d'Exploration Musicale, permits to amplify this phenomenon thanks to its novel scenic device which can be modulated. It helps to dynamise the approach to music.
Courses for children from the age of 4 on, adolescents and adults

Organisation of courses
Individual or group lessons (2 to 5 persons)
Weekly lessons, 10 per quarter (50 minutes)
Weekend formula on demand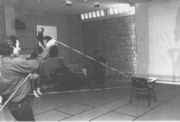 Workshop with artists during interdisciplinary seminar « Colisiones » at Arteleku, San Sebastian, Spain, 1995
information : Dominique Barthassat, info@soundexplorer.ch


CEM - Centre d'Exploration Musicale
10, rue des Vieux-Grenadiers, 1205 Geneva, Switzerland
phone : +41(0) 22 800 13 55
fax : +41(0) 22 800 13 56

Performance of CEM's students at University of Geneva,
in context of the postgraduate seminar
«Mutations dans le savoir contemporain » by prof. A. and D. Munari, 1988