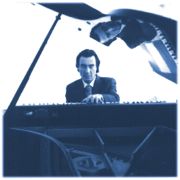 Dominique Barthassat, composer, pianist, sound architect
Born in Geneva (Switzerland) where he studied at the Conservatoire de Musique de Genève. This was followed by studies of computer-assisted composition in Paris with Iannis Xenakis and at IRCAM (Paris).

Creator of a multi-dimensional approach to teaching music, Barthassat founded the CEM - Centre Exploration Musicale in 1987 where he teaches his techniques in a novel experimental set-up. By this way, he is also contributes to the development of a culture of peace, humanitarian actions and education.

As an innovative pianist, he was invited to perform for the Indian Parliament in New Delhi in 1997. Since then, he has developed a musical exchange between east and west with Indian musicians.

Dominique Barthassat has composed a number of acoustic space pieces for voice and instruments - Acoustic Environment linked with art and architecture - notably for several European museums. He has also composed music for film, video, theatre, and dance.

He created the concept of Sound Architecture which was inaugurated at Telecom 99 and has developed Sound Navigators (to project sound architecture) such as: the acoustic envelope, sound screen, acoustic well, acoustic design, musical icons which can be used in art, culture, interior design, education, tourism, and communication.

He is currently writing «Opus Anello», a multi-dimensional opera in-situ, as well as "La Messe sur le Monde", based on a text of Teilhard de Chardin.